3 Top Growth Stocks Worth Considering

The recent market sell off may not be over (and we will have more to say about potential near-term volatility in a later section of this report). However, we do believe the three stocks highlighted below are attractive and worth considering for investment (especially after the recent dramatic price declines).
JFrog currently presents an attractive long-term opportunity for investors seeking significant capital appreciation. Not only have the shares of this attractive (newly public) business sold off hard as part of the recent marketwide sell off, but they've also sold off doubly hard as the final lockup period for shares held by insiders as part of the recent IPO just expired on Feb. 22.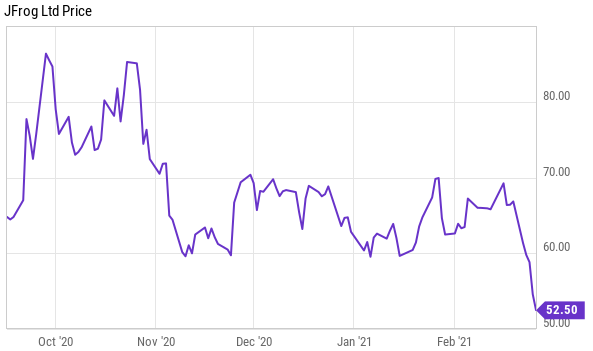 source: YCharts
If you don't know, JFrog is a "dev ops" company that provides end-to-end software management solutions that allow users to release updates extremely fast. The company has an impressive high growth rate (see earlier table), product offerings and an expanding opportunity in a very large and nascent industry. The shares almost doubled after the September IPO, but have been regressing lower, and now trade back near the IPO price despite the fact that the company released solid earnings this month, whereby they beat revenue expectations and raised their future revenue outlook. If you are looking to purchase attractive long-term growth at an increasingly reasonable price—JFrog shares are worth considering on this recent pullback. We'll have more detail on JFROG in the concluding paragraph of this report.
FuboTV (FUBO)
FuboTV is a "sports first" streaming platform with a very high growth trajectory and a large total addressable market (i.e. lots of room to run). It's benefiting from the secular decline in traditional TV, the shift to connected TV advertising, and the potential growth in online sports wagering. And the share price has just pulled back dramatically.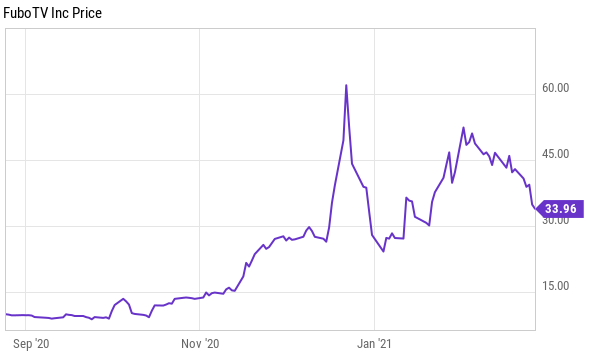 source: YCharts
To be clear, FUBO is an attractive business, but it does face a variety of risks (such as execution risk and its current lack of profitability), and we expect the share price will continue to be very volatile. As such, we like these shares for an out-of-the-money put selling strategy. This is a strategy we write about often, and it entails generating attractive high upfront premium income (that you get to keep no matter what) in exchange for the obligation to purchase the shares at a much lower price (if they actually fall to that price before your options contract expires in the relatively near future). This is an attractive strategy based on current (high volatility) market conditions, and you can view a detailed example of a recent FUBO trade idea later in this report (see the "Income-Generating Options Trade" section).
Palantir (PLTR)
Palantir is a data analytics software company that began trading publicly in September. However, the company was founded in 2003 and has already grown to an impressive $45 billion market cap based on its highly lucrative long-term contracts with government agencies as well as enterprises to help them manage their data efficiently and facilitate informed decision-making. We especially like the company's high growth rate, large market opportunity and strong leadership team.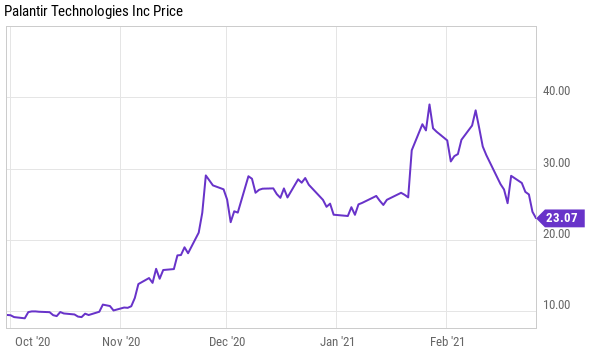 source: YCharts
And the share price is increasingly attractive considering it just recently announced quarterly results whereby it beat earnings and revenue expectations plus announced solid forward sales growth expectations. Further, Wall Street analysts have been raising their aggregate price target on the shares following the upbeat quarterly results.

source: Factset
Nonetheless, the share price has continued to decline, and we believe this makes for a compelling entry price if you are a disciplined long-term investor. This one has a lot of long-term upside potential.

https://seekingalpha.com/article/4409776-50-top-gr...